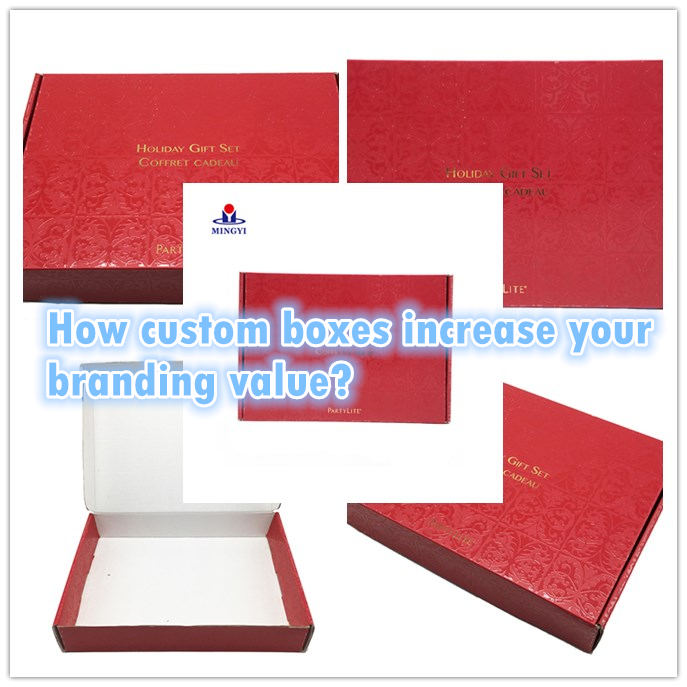 How custom boxes increase your branding value?
Custom cardboard box packaging is a no brainer – it's an undeniable marketing tool. Customized packaging concepts are becoming a buzz with cool boxes becoming a norm even in delivery of relatively low-cost products. Consumers are increasingly willing to pay a premium for sophistication and customization with services such a customized packaging subscription gaining popularity. Marketers and producers are noticing the influential market strategy that Custom cardboard boxes present. It's essential to recognize that your packing boxes are more than just something to store and transport your product. In today's competitive business world, customized packaging has become an essential component of brand representation. Not only do Custom cardboard boxes packaging reinforce your brand, but it as well increases traffic to your website while strengthening customer experience. Therefore, creating a consistent custom branding strategy is ley to the longevity in today's competitive business environment.
Visually Appealing to Customers
Unquestionably, customized packaging has a visual appeal that influences choice decision among substitutes. It's the visual appeal that makes a product stand out in a crowd. Essentially, customized packaging communicates with the subconscious. It's the appeal that defines the outlook of a product. Surveys indicate that up to one-third of purchases are solely based on packaging- so you need to make your box iconic. It's no longer uncommon to receive products packaged in colorful and uniquely designed boxes reflecting a professional appearance presented by the company's name, logo, brand tagline, website and social media handles. It's significant to understand what appeals your scope of customers while designing the customized boxes to realize the benefits of packaging optimization.
In the highly visual era, custom boxes echo customer service. A cool presentation of a product enhances the visual appeal of the product. Custom printing on cardboard boxes is gaining popularity as a simple and effective marketing tool enhancing branding efforts. Great customization is synonymous to professionalism and high attention to customers. Integrating your logos and images on the packaging communicates the strengths and benefits of your products. Stylized packaging signals the message: "we are mindful of product users in greater detail, beginning with the pack", that could influence the customer's purchase. A beautifully designed, branded and easily recognizable packaging easily draws attention. Again distinctive packages increase the curiosity to explore and discover. It's common to find beautifully artsy packages with seasonal designs that resonate with a unique category of consumers.
Reinforce Brand Image
Customized branding is mainly about reputation. Customization aims at influencing the way consumers perceive a brand. Packaging has become a focal point of brand optimization. Packaging sparks the first connection between your product and the customer - it's the package that the customer has on their hands once the package is delivered. An impressive packaging leaves the product at the top of the customers' mind. Innovative graphic design on the Custom cardboard boxes suggests that the product is not just any other product. Investing in customized boxes stretches the marketing and branding activities while leaving an impression at every point of the distribution chain. Both physical and online retail stores are bustling with a collection of substitute products, so packaging differentiation creates a brand identity. Impressive custom boxes are likely to attract customers to your custom display units and retail shelves, maximizing visual impact and differentiating the product from the crowd. The positive images reinforce brand name which enhances customer loyalty, increases sales and ultimately trickles to the overall profitability. Needless to say resources invested in customizing boxes can more than pay off in enhanced visibility in the consumer marketplace
Creates Memorable Customer Experience
Focusing solely on the package as a means of product protection while in the shipping process means that you are overlooking the pertinent packaging marketing opportunity. The shipping package is the most direct connection and touches with the customers. A well-branded custom cardboard boxes create a first impression of your product to the customers. Being the first touch point, premium packaging leaves a powerfully and memorable unboxing experience to the customers, which attracts repeat purchases and differentiates your products from competitors. People associate customized packaging with high-end consumer goods, hence leaves a message to the customers on their significance building customer loyalty.
There is no doubt that customers impart excitement into a mundane experience which is evident in the increasing number of shoppers sharing their unboxing experience online. The use of corrugated boxes is particularly a trending practice that has been linked with high customer unpacking experience. There is a strong community of people sharing blog posts, videos or images of their unboxing experience on social networks implying premium packaging can help get your brand out there to a wider radius of people. A little sophistication in delivery boxes makes the customers feel like they have purchased a quality product.
Expands the Scope of Customers
There is an online shopping wave – up to 96% of Americans shop online. With online shopping gaining popularity among customers, custom printed boxes draw traffic into your business website, which is essential in enhancing sales. By using Custom cardboard boxes that are highly recognizable, you are strengthening your brand's presence by expanding the radius of potential customers. A branded box attracts a vast number of potential customers from the delivery guy, to the customer, to people passing by the mailing boxes, who would otherwise not be attracted if your products are delivered in plain boxes. For example, adding social network platforms on the Custom cardboard boxes as advertising tools reach customers who are large users of social media platforms who would otherwise not be reached with the mainstream media advertising channels. Don't waste the free marketing opportunity with an impressive custom printed box.
Green Packaging Brand Identity
Today consumers are increasingly conscious of their environmental footprint and demanding that their products be delivered in sustainable and eco-friendly packages. As environmental impact becomes a focal point in consumer's tastes, adopting eco-friendly packaging has become a necessity. Use customized cardboard boxes as opposed to plastic packing communicates the brand's commitment to environmental responsibility. Big brands have built strong names by ditching the non-recyclable and non-degradable packaging for eco-friendly packing such as cardboard boxes. Streamlining your packaging to eco-friendly packaging such as Custom cardboard boxes not only in environmental responsibility, but also reinforces brand loyalty to the increasing environmental conscious consumer group. Using Custom cardboard boxes writes your business history earlier and conveys the business values to the general public giving your product brand identity.
Bottom line, custom packaging is a branding opportunity that any business cannot afford not to incorporate in its marketing strategy. On the lower side though, customization is likely to have a cost implication and likely to have direct overall impact of the unit cost of a product.